Programs & Events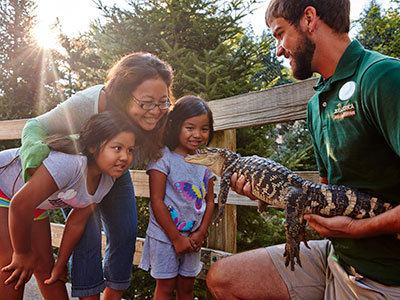 Adventure awaits at ZooAmerica®! Go on a behind-the-scenes animal tour, learn about your favorite animals, do your part to help out, take part in fun zoo crafts, and more. It's all yours to enjoy, experience, and discover at ZooAmerica.
Preschool Day
April 17 | 10 AM - 2 PM
If you are a teacher or parent looking for a unique way to spend the day with your little ones, check out Preschool Day at ZooAmerica. Join us for a day filled with fun and learning! Children can participate in a variety of animal and nature-themed stations that are perfect for the young naturalist.
Dig up some bones
Make some animal tracks in the sand
Paint a nature themed stone to take home or decorate the zoo
And so much more!
Earth Day Celebration – Party for the Planet
April 21 | 11 AM - 3 PM
Join ZooAmerica for its annual "Party for the Planet" Earth Day Celebration. Enjoy animal encounters and animal enrichment feedings. Check back soon for more details.
Zoo Camp
Sessions begin June 10
Discover a zoo camp unlike any other at ZooAmerica! Campers will go on a journey of exploration, learning, and adventure with ZooCamp! ZooAmerica offers exciting camp sessions for children of all ages, from preschool through high school. Campers will leave with a greater appreciation for nature and a deeper understanding of the wild of North America.
Learn More
For questions, please call 717-534-3900 or email ZooAmerica@HersheyPA.com.
ALL INFORMATION IS SUBJECT TO CHANGE WITHOUT NOTICE.