History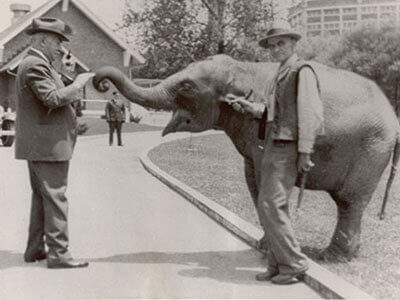 ZooAmerica has a history that is as wild and surprising as its more than 200 animal occupants. What began as a private animal collection in Hershey, PA has become an 11-acre site, refuge, home, and AZA-accredited sanctuary for more than 200 animals representing 70 species from across the continent of North America. Discover how below.
The Formation
The idea for a zoo in Hershey dates back to the formation of the town itself. In 1903, Milton S. Hershey broke ground for his new chocolate factory and began plans for the model town his factory workers and their families would reside in – with everything from homes and schools, offices and recreational facilities. This included a zoo.
Mr. Hershey acquired the zoo's first residents – twelve prairie dogs – from a family who was unable to care for them. Hershey Zoo, as it was then known, received more private donations in the coming years. Hershey Zoo continued to grow through the 20's and 30's. The zoo temporarily closed from 1942 – 1950 to aid in the country's involvement in World War II.
Re-Opening &amp Decline
Upon re-opening, Hershey Zoo expanded, adding more diversified wildlife – all the while relying on private donations and trades with other zoos and animal dealers. However, by 1971 a number of factors, including a shift in public opinion, increased recognition of human responsibility for wild animals in managed care, and lack of funding led Hershey Estates (the facilities' owner) to close the zoo.
During this time Hershey Park underwent changes, adding a barrier around the property, introducing a one-price admission plan, and redeveloping itself as a themed amusement park. Hersheypark® as it became known, also incorporated an Animal Garden and petting zoo as a new attraction – utilizing animals from Hershey Zoo.
Revitalization
In 1975, John Strawbridge, then director of Hershey Museum, saw an opportunity to revitalize the vacant zoo. He developed plans and successfully convinced Hershey Estates to invest in redeveloping the old site of Hershey Zoo as a themed zoological park called ZooAmerica North American Wildlife Park.
ZooAmerica officially opened in 1978. It featured more than 200 animals representing 70 different species from five geographical areas in North America – as is the case to this day. ZooAmerica placed an added interest in educating guests on each habitat and its animal residents.
The Zoo Today
ZooAmerica celebrates over 40 years of honoring our obligation to caring for and protecting its animals while providing guests with exciting adventures in the heart of Hershey, PA.