Programs & Events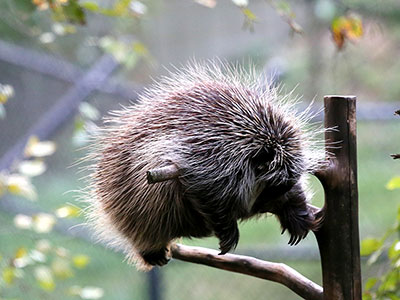 Adventure awaits at ZooAmerica®! Go on a behind-the-scenes animal tour, learn about your favorite animals, do your part to help out, take part in fun zoo crafts, and more. It's all yours to enjoy, experience, and discover at ZooAmerica.
Wild Winter Adventure
December 8 - 9, 15 - 16, 27 – 30, 8:30 – 11:30 AM or 1 – 4 PM
Learn how animals survive the cold winter months during Wild Winter Adventure! Encounter live animals including reindeer at Hersheypark®, enjoy a snack, explore ZooAmerica, and more!
This program is 3 hours long and is designed for children K – 5. All children must be preregistered and prepaid to participate. Space is limited.
Pass Rate*
Regular Rate
*Online registration for Annual Pass Members is currently down. To register at the Pass Rate, please call 717-534-3123.
Discovery Weekends
Kids, ages 8 and under, explore FREE Saturdays and Sundays in January during ZooAmerica's Discovery Weekends! Visit each weekend to experience up-close "animal encounters" and discover more about your favorite animals from 11 AM - 3 PM. Featured animals include:
January 5 & 6 | Wolves
January 12 & 13 | Owls
January 19 & 20 | Otters
January 26 & 27 | Snakes
Sensory Friendly Morning
Saturday, January 26 | 9 - 11 AM
Visit ZooAmerica for our first-ever Sensory Friendly Morning! Experience the wild of North America with modified exhibits for sensory friendly fun!
Subdued lights and sounds in selected exhibits
Calming Rooms available
Special animal encounters and displays
View Map

40th Anniversary Scavenger Hunt
Find the species that were part of our opening 40 years ago! Print out the scavenger hunt and bring it to the Zoo for educational and interactive fun!
Questionnaire
Answer Sheet
For questions, please call 717-534-3900 or email ZooAmerica@HersheyPA.com.
ALL INFORMATION IS SUBJECT TO CHANGE WITHOUT NOTICE.